Cometly is an ad tracking platform for Facebook and now also for Google Ads. In this article I will tell you my experience, how difficult it is to set it up and how it compares to other tracking tools.
Optimize Your marketing campaigns with Cometly's Analytics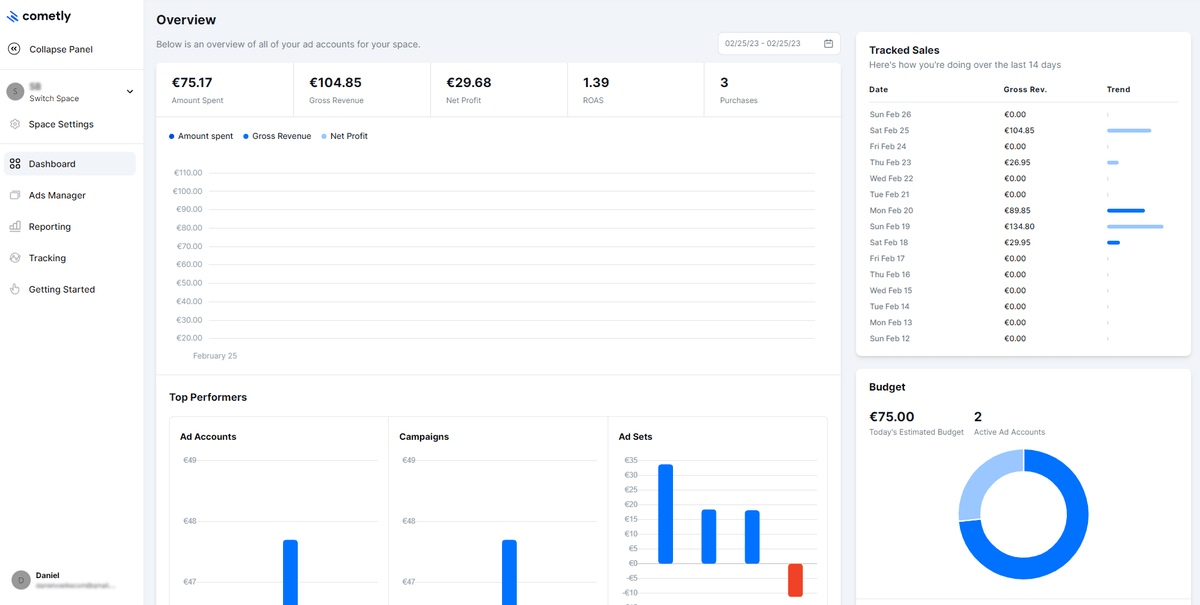 Advantages of Cometly
Sends back data to Facebook via the Conversion API
Accurate tracking
Beautiful interface
Pricing by ad budget
You can track any type of store
Disadvantages of Cometly
Doesn't show the profit, because no cost of goods
You can only track Facebook, Google Ads and TikTok, not Pinterest or other platforms
On mobile, you only get an overview
Why choose Cometly?
There are countless ad tracking platforms on the market today, but what sets Cometly apart from the competition? For starters, this powerful platform offers a lot of advanced features and capabilities that simply aren't available with other solutions like Triple Whale or Adverfly.
For example, with Cometly, you can also track your WooCommerce store or a custom online store. It also sends back conversion data to the ad tracking platform.
In addition, Cometly offers a user-friendly interface that makes it easy to get started with ad tracking. Whether you're a seasoned advertiser or just getting started with online advertising, you'll find that Cometly is intuitive and easy to use, with a wide range of features and capabilities that make it an essential tool for any advertiser.
How to start with Cometly?
Cometly has a great quick start guide and also an awesome onboarding team that helps you to set up everything.
My Cometly review: What I like about Cometly
One of the standout features of Cometly that I really appreciate is the platform's ability to send back conversion data to Meta (Facebook and Instagram). This may not sound like a big deal to everyone, but for those of us who rely on this type of data to measure the effectiveness of our advertising campaigns, it's an absolute game-changer.
With Cometly, you no longer have to rely on third-party tools or complicated integrations to get the data you need. Instead, the platform automatically sends all of your conversion data back to meta, allowing you to easily track and analyze your results in real-time.
Another thing that I really appreciate about Cometly is the team behind the platform. From the very first time I reached out for support, I was blown away by their responsiveness and willingness to help. Whether I needed help setting up my account, troubleshooting an issue, or just had a general question, their team was always there to provide quick and helpful answers.
All in all, I've been extremely impressed with Cometly and would highly recommend it to anyone looking for a powerful and user-friendly ad tracking platform.